Thank You for visiting Marks Mini Cruisers
We know offer the best service around on small engine equipment which includes :
mowers, push and self propelled, wide area, lawn tractors, garden tractors, zero turn mowers, high wheel trimmers,
snow throwers big and small, gas powered air compressors
pressure washers, generators,
2 and 4 cycle String trimmers, chainsaws, leaf blowers, ice augers
Certified Kohler Expert Technician
Briggs and Stratton Master Technician
also have MTD, Kawasaki and Honda training
Work on almost all models of equipment
For questions or to setup repair email Mark
Now on to the toy stuff
I have put up a few pictures of the minis that are currently ready to roll, the in progress one, and one past rebuild. Soon you will be able to click on the pictures and get all the information you need for everyone of them. Check back often, I will be updating frequently.
---
NEW STUFF
We are working on new plans for some real bad go karts, a new test track is being made to find the best combinations for the ultimate go kart, the first prototypes should be rolling out early 2008. The progress on both karts and track will be updated as we go, this should be a great time!
Here it is! The First of the GoKarts!
---
(click on the picture for the building process)
All hand bent and welded from thick wall steel tubes, everything is brand new parts, seat, brakes all the cables tires wheels chain and sprockets, except the 4hp motor, that was all checked and cleaned, has had recent oil changes. This bike has a rear drum brake controlled by a hand lever on the right handle bar. A steal at $400.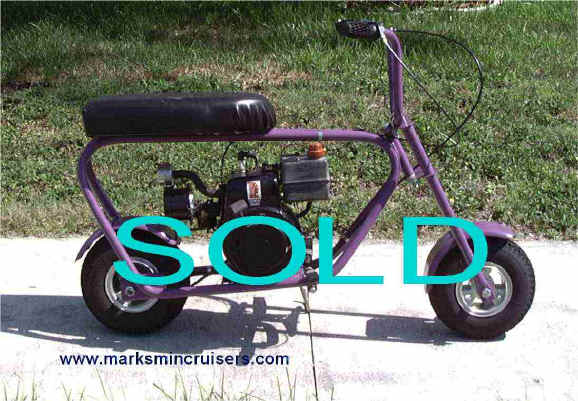 ---
The Blue Chopper
(click on the picture for some of the building process)
This chopper was also made from thick wall steel tubing, all hand bent and welded, all parts, brakes, tires, wheels, and cables, are new, the new handle bars are real Harley type "ape hangers" and real chopper foot pegs. The motor is used, but gone through and had its oil changes. The seat has double springs for that extra level of comfort that you normally don't find in a chopper style bike. Has both front and rear drum brakes controlled by hand levers on the handle bars to make it stop pretty quick. This chopper has a jackshaft setup between the engine and the rear sprocket, although not geared for high speed, this little beauty is no slow poke at 25mph. This makes a Fantastic "pit bike" get a lot of attention from the other racers. Yet another great chopper from marks minicruisers.
Due to a lot of comments, the motor is going to be changed!
It is all apart, as time allows it will get back together with the great new look!
New pictures will be here when it is complete.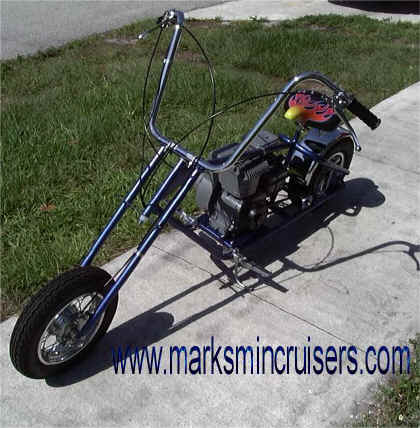 ---
The soon to be "Red Rider"
Front coil suspension, rear shocks mounted to a swing arm 10" steel wheels, rear drum brake. This will be fitted with a "Torq-A-Verter" for better low end torque on the rough terrain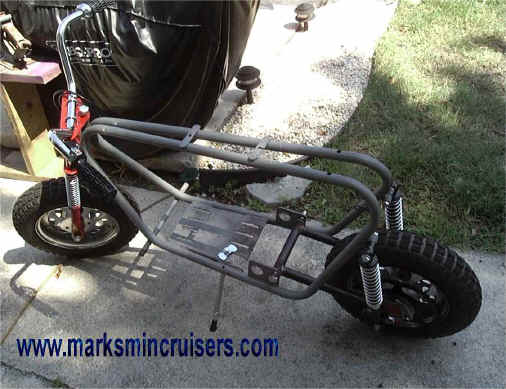 There are more great creations in the works, wait until you see the new ones coming out this spring!
---
Some Previous Projects
Honda Odyssey
This is a fun toy, click on the picture for the story.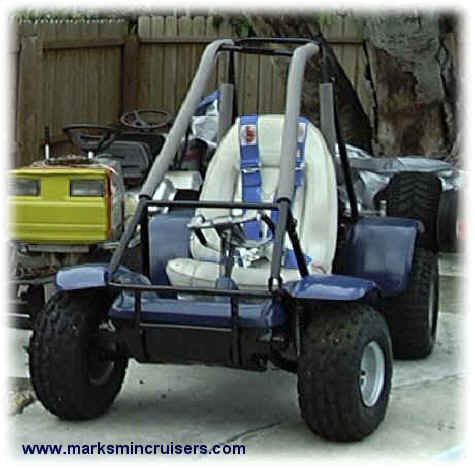 Feel free to email any questions or requests to Mark.